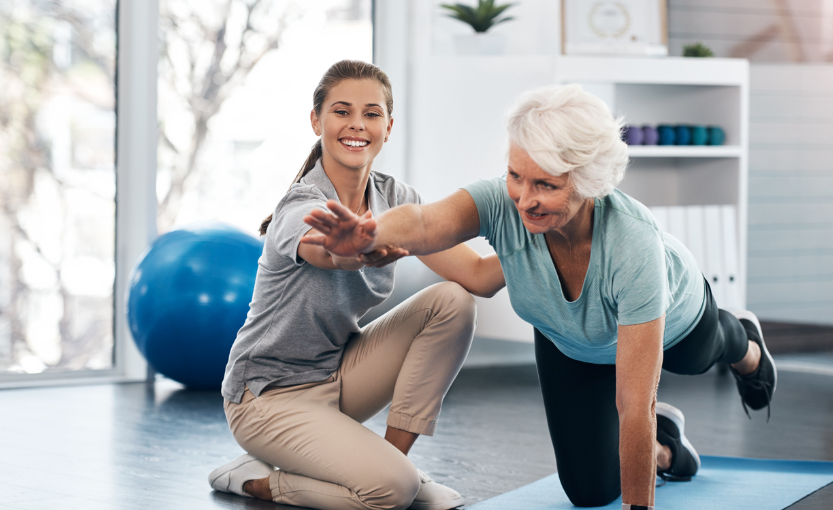 What Is Therapeutic Exercise?
Therapeutic exercises are a planned set of physical movements or activities that target specific impairments, dysfunction, or region of pain with the goal of improving function, strength, and ability to navigate through one's daily goals and routines.  
Therapeutic Exercise Goals
Improve ambulation (walking)
Release contracted muscles, tendons, and/or fascia
Mobilize joints
Improve flexibility
Improve circulation
Improve coordination
Improve balance decreasing fall risk
Improve strength
Improve endurance
How Therapeutic Exercise Can Help?
At Marlboro Physical Therapy, we use a focused approach to therapeutic exercises where one size does not fit all.  For example, an exercise for low back pain in one patient, may not be the correct exercise for a patient who appears to have the same low back pain.  For this reason, our goal for therapeutic exercise is to assess each individual patient and create personalized therapeutic exercise programs that are geared towards their problems. Once a patient can understand his or her problem, then he or she can tolerate physical activity better by understanding triggers to the pain.  Time and time again, patient have been shown to improve in pain, dysfunction, and disability if they can remain active and moving.  Our goal is to incorporate physical activity into our patient's daily lives which helps them function more effectively in their own environment.
For more information, please feel free to call our office or contact us.  Our expert physical therapy team will evaluate you for the best modalities to target your injuries.