Our staff consists of a skilled team of caring and devoted licensed physical therapists, licensed physical therapist assistants, well-trained aides, and courteous, efficient office personnel who are committed to the complete rehabilitation of each and every patient. Continuing education through specific seminars and workshops provide the means to keep these professionals abreast of the latest developments and techniques.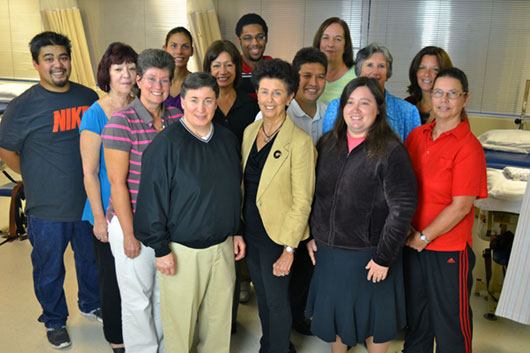 The Partners
Judith K. Hurley, PT
Principal and Founding Partner
President of Marlboro Physical Therapy
Ms. Hurley has a special interest in the area of upper extremity and hand rehabilitation and fitness for people over 50.
She holds a Masters Degree in Health Service Administration from the New School for Social Research, Graduate School of Management & Urban Professions, NYC (1988), and a Bachelor of Science in Physical Therapy from the College of Physicians & Surgeons, Columbia University, NYC (1955). Ms. Hurley is currently pursuing her PhD. at Seton Hall University.
Ms. Hurley is licensed in Physical Therapy in New Jersey.
Eileen Fee, PT
Principal Partner
CEO of Marlboro Physical Therapy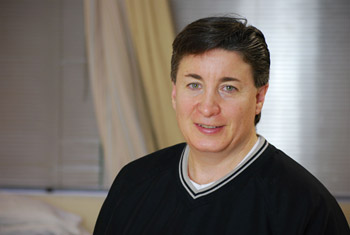 Eileen has distinguished herself as a trained specialist in Myofascial Release Techniques and is one of the elite Myofacial Therapists in the area. Her special interest areas are TMJ, Chronic Headaches and Chronic Neck and Low Back Pain.
She is a graduate of Thomas Jefferson University in 1988 and holds a Bachelor of Science Degree in Physical Therapy and a Bachelor of Science Degree in Biology from Rutgers University in 1986.
Eileen has extensive experience in treating chronic pain patients. She has previously worked in a chronic pain facility in Wisconsin and has served as The Physical Therapy Chronic Pain Director at Betty Bacharach Rehabilitation Hospital in Pomona, NJ for in-patients and out-patients. Eileen was also the Physical Therapy Director of the Peak Performance Musculo-Skeletal Center in Marlton, NJ. In addition, she has also served as the Physical Therapy Director for US Healthworks in Voorhees, NJ.
Other areas of interest are orthopedic injuries involving SI Dysfunction and athletic injuries.
Eileen holds a license in Physical Therapy in NJ and has practiced physical therapy for 25 years.
The Members of our Professional Staff
Has practiced physical therapy for 25 years
Bachelor's degree in Physical Therapy, Temple University, 1987
Associate's Degree in Biology, Middlesex County College, 1982
Holds a license in physical therapy in NJ
Member of the American Physical Therapy Association
Specialty areas: Pilates exercise program, Myofascial Release and Trigger Point Techniques, Orthopedic Manual Techniques
---
Stacey Palumbo, PT, DPT

Doctoral degree in Physical Therapy, University of Medicine and Dentistry of New Jersey, 2005
Bachelor of Science degree in Biology, The College of New Jersey, 2000
Holds a license for physical therapy in NJ
Specialty areas: Orthopedic Injuries with focus on sports related injuries
---
Bachelor of Science degree in Physical Therapy, Emilio Aguinaldo College, 1989
Holds a license for physical therapy in NJ
Speaks Filipino fluently
Specialty area: Orthopedics
---
Associates degree in Physical Therapy Assistant, Union College, 1991
Holds a license for physical therapy assistant in NJ
 Served in the U.S. Navy from 1986-1991 as a physical therapy assistant
Specialty areas: Geriatric Orthopedic Injuries
---
Doctoral degree in Physical Therapy, University of Vermont, 2011
Bachelor of Science degree in Nutrition and Food Service
Holds a licence in Physical Therapy in NJ
Specialty areas: General Orthopedics
---
Kristen Aquila-Hall
Doctoral degree of Physical Therapy, University of Medicine and Dentistry, 2004
Bachelor of Science Degree in Exercise Physiology, Montclair State University, 1998
Holds as license in physical therapy in NJ
Is a member/affliated with: American Physical Therapy Association, National Strenth and Conditioning, Special Olympics Volunteer, Multiple Sclerosis Walk Team Leader