The physical therapy management of orthopedic and sports related problems will often require the use of physical modalities and/or therapeutic procedures to help you achieve maximum functional recovery. The most common diagnoses that would benefit from a referral to Marlboro Physical Therapy, P.A. are:
Sprains & strains
Tennis elbow
Low back pain
Heel spurs
Pinched nerve
Rotator cuff injuries
Frozen shoulder
Post surgery rehabilitation
Spinal stenosis
Herniated disc
TMJ
Rheumatoid arthritis
Tendinitis
Post fracture care
Neck pain
Plantar fascitis
Osteoarthritis
Total joint replacement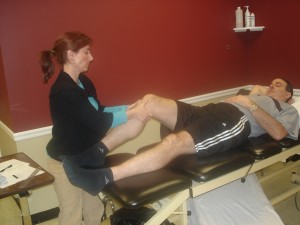 Treatment options are determined after an initial evaluation by a physical therapist in conjunction with your physician's orders.
The treatment may consist of physical modalities (moist heat, ice, ultrasound, electrical stimulation, massage, phonophoresis, iontophoresis, whirlpool, traction) and/or therapeutic procedures (joint mobilization, posture re-education, passive stretching, activities of daily living, therapeutic exercise, range of motion, gait training).